How GuideStone Protects Your Information
Customer Protection Guarantee
At GuideStone®, we value our relationship with you and recognize the confidence you have placed in us. With your help, we are committed to safeguarding your financial accounts through our Customer Protection Guarantee (Guarantee).
As a part of that Guarantee, it is our practice to reimburse you for any losses in your GuideStone account(s) due to unauthorized transactions through no fault of your own.
To achieve the highest levels of security for your account, and as a condition of this Guarantee, we need your compliance in following these best practices:
Safeguard your User ID and passphrase by not sharing them.
Report suspicious activity, including actual or attempted unauthorized access to your account, by calling 1-888-984-8433.
Keep your phone number and email address on file with GuideStone up to date.
Do not opt out of security text alerts or electronic communication delivery from GuideStone.
Exercise prudent computer practices and vigilant online browsing.
Promptly notify us if you become a victim of identity theft.
A complete description of the coverage GuideStone provides under the Guarantee, including steps you may need to take to qualify, is outlined in more detail. Please take a moment to review the Guarantee and ensure you are properly safeguarding your information.
How does GuideStone keep your personal information and account(s) secure?
On our websites:
Unique user ID and passphrase requirements
When activating MyGuideStone®, participants are required to create a unique user ID and passphrase. No GuideStone employee will have access to your passphrase, and we will never ask you for it.
Multi-factor authentication
When accessing our website from a new device or for certain sensitive transactions, we will send you a single-use code via text message or voice call to your phone. This step provides an extra layer of protection if your passphrase has been stolen.
Encryption
Before sensitive information is transmitted during an internet session, it is encrypted using some of the most sophisticated technology available. Whether it's coming from our system or yours, transmitted information is decoded as it arrives with a code that only the two systems know. Just look for the "s" in "https".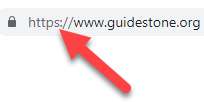 Security text alerts
If we have your mobile phone number on file, we will send you a text alert when certain activity occurs, like making a withdrawal. You can opt out of these alerts at any time.
Inactivity logoff
You will be automatically logged off if your connection remains inactive for several minutes. It is even safer to log off yourself.
Online account freeze option
You can request for GuideStone to block all online access to your accounts and plans. Contact us by phone to establish a freeze.
Within our operations:
Customer verification
We have policies in place to verify all customers no matter how they do business with GuideStone.
Secure firewall
We utilize strong firewalls — which are barriers to protect our network and systems — to prevent unauthorized access to your data.
System monitoring
We actively monitor our network infrastructure for unusual activity to keep your accounts safe and secure.
Fraud monitoring
We monitor transactions for unusual behavior. If the transaction appears suspicious, we will contact you by phone but will not ask you for your personal information over the phone. If we can't reach you, we may put the transaction on hold.
Restricted access to your data
Our systems employ permission hierarchies. Only employees who need access to your data as part of their role receive that access.
Training and education
All GuideStone employees receive periodic training on our policies and procedures, including those related to security and protecting confidential information.